Harbortouch is pleased to offer the industry's first FREE Electronic Cash Register (FECR) program.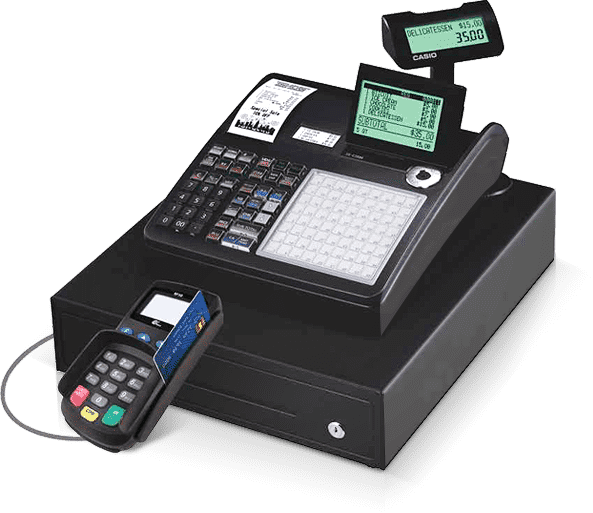 Harbortouch has partnered with Casio to integrate the most popular electronic cash register equipment with exclusive credit card processing technology to deliver the ultimate payment solution, completely free of charge! A credit card terminal is just that, a terminal that accepts credit card transactions, but Electronic Cash Registers (ECR) manage cash, checks and credit cards as well as taxes, all in a simple and efficient manner. These new generation integrated ECRs will redefine how merchants accept payment. There is no longer a need to purchase a cash register or use a stand-alone credit card terminal when you can get a free ECR through Harbortouch.
Harbortouch has developed a simple, easy to use online wizard to customize your register's keypad layout prior to shipping so that you will receive your cash register fully programmed to your specifications, saving you countless hours of setup time.
The Harbortouch ECR is a stylish and functional Electronic Cash Register (ECR) developed specifically for the retail and restaurant environment, offering the features and capabilities you need to simplify the way you run your business. Each Harbortouch ECR comes complete with an integrated PCI PED compliant credit card payment terminal to enable fast and user-friendly payment options. With a wide array of convenient features, this state-of-the-art cash register is the perfect device to streamline your retail business.
Features:
Accept all major credit cards and EMV-Chip cards directly through your electronic cash register

Track your daily cash, check and credi

t card sales

as well as taxable and non-taxable sales

Program clerk numbers

Customizable keypad layout with a simple, user-friendly online wizard

Discount keys for percentage or dollars off and even special programmable discount descriptions

Guaranteed replacement cash register if yours breaks or malfunctions, completely free of charge*

Dial-Up or Optional IP Ethernet connection

Large LCD display and backlit customer display

Multi-application support

Exceptional 24/7 customer service & technical support

Rugged hardware and stylish design

Full-Size Heavy duty cash drawer

Drop and load thermal printer

3 function keys and 30 programmable department keys with pricing!!!

PCI PED compliant

FREE Harbortouch Cash Register!
Call us today to get started: 1-800-559-8310